Friday, November 9
Adult Ed - Discipleship Opportunities - Now thru December
Time: 7:30 am – 9:00 pm
Northminster Presbyterian Church
Wednesday Night Study Group
The Great Spiritual Migration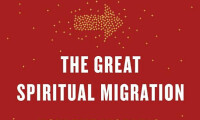 On Wednesday evenings, September 26 - November 14, you are invited to join in an 8-week study of The Great Spiritual Migration by Brian McLaren. In this book, McLaren will discuss how the world's largest religion is seeking a better way to be Christian. The call to Christian discipleship is a call to get going ...to move forward. Join us as we reflect on and explore who we are and who we can become. Parish Associate Carol McDonald will facilitate our discussions.
We will meet from 6:00 - 7:15 p.m. on the following Wednesdays with this proposed reading and discussion schedule:
September 26 -- Preface, Introduction, Chapter 1
October 3 -- Chapters 2 and 3
October 10 -- Chapters 4 and 5
October 17 -- Chapter 6
October 24 -- Chapter 7
October 31 -- Chapters 8 and 9
November 7 -- Chapter 10
November 14 -- Afterword and Appendices
Copies of the book are available in the church office at $12 per copy. Or you may order from Amazon.com. This title is also available for e-readers. You will need your Bible ... the Common English translation if you have access to it.
Please call the church office (317-251-9489) so we will know how many to prepare for.
(Wednesday Night Dinner is available at 5:30 pm. Reservations due by noon on Mondays: 317-251-9489.)

Discipleship in October and November
– 10 am in the Board Room

1st Sunday of the Month (Oct. 7 and Nov. 4): Science Fiction Book Discussion. Discussion of A Wrinkle In Time by Madeleine L'Engle. Led by Bill Dynes.

2nd Sunday of the Month (Oct. 14 and Nov. 11): The New York Times and the Bible. Led by Mark Moore.
4th Sunday of the Month (Oct. 28 and Nov. 25): Coffee with Krista Tippet. Led by Jennifer Dzwonar and Marcia Young.
Contemplative Prayer and Meditation
This five-week program will engage you in different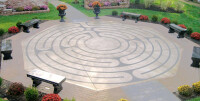 contemplative prayer practices designed to help you explore ways to spend time with God. Contemplative prayer is designed so we talk less and listen more in ways that open us to a deeper attentiveness to God's love for us. The five types we will explore are: Breath Prayer, Praying with Icons and images, Centering Prayer, Lectio Divina, and Prayer of Examen.
Mary Beth Riner will lead us. She has been engaged in contemplative prayer practices for over 20 years. As an experienced educator she has led this course in the past and been active in prayer ministry with faith communities.
Sessions will be on Sundays from 5:30-6:30 pm, from October 7 through November 4, downstairs in the Board Room.
Materials for all five sessions is $10. Register online, or by calling the church office (317-251-9489) no later than October 1, 2018. Questions? Contact Mary Beth ( ).

Book Club


Sundays at 12:00 noon. The Hate U Give by Angie Thomas on the October 21, and Educated: A Memoir by Tara Westover on November 18. Led by Carol McDonald and Ruth Moore.
Advent Study
A look at the lectionary scriptures for Advent, at 6 pm on Wednesday nights (November 28 – December 19). Led by Teri Thomas and Ruth Moore.
At 10 am on Sunday mornings, (December 2 – 23), Exegesis 101: Exploring the larger context of Sunday scriptures. Led by Carol McDonald and Maureen Wilson on Sunday mornings.