Easter is an opportunity to examine our own shadows and reclaim the space intended for the light of the living Christ. Now's the time to re-engage in your faith, to re-engage in the Church. Join us this April, all are welcome.
Holy Week Schedule
Lent Devotionals
Read Deuteronomy 26: 1-11 and Luke 4: 1-13.
Jesus walked in wilderness shadows for 40 days. Our Israelite ancestors wandered in desert shadows for 40 years. Through it all, God was with them. They were God's beloved.
We live in daily shadows of fear and sadness, of war and violence. Through it all, God is with us, and we are with each other. We. Are. Not. Alone. That is God's promise. We are God's beloved.
Prayer:
Holy God, help us to believe and live in the sure confidence that you are with us -- that holding on to your promise, we will journey through any shadow that threatens to overwhelm us. Open our eyes and our hearts to the signs that assure us we are your beloved – the signs we are never alone. We pray in Jesus' name.
Amen.
Read Deuteronomy 26: 1-11 and Luke 4: 1-13.

The scriptures for the first Sunday of Lent
paint for us two pictures of what it means to wander:
to wander as an alien in a strange land (Deuteronomy)
and to follow the Spirit into the wilderness (Luke.)

Where in your life right now do you sometimes feel you are
wandering in a "strange land?"

Where do you sense the Spirit is trying to lead you?

And how might you feel if shadows surrounded you
and threatened to overwhelm you?
Where would you turn for hope?

PRAYER:
Holy God, walk this Lenten journey with us.
There will be rough places and rocky moments.
Through it all, O God, be our guard, our guide, our strength.
In the name of Jesus, we pray. Amen.
Lent Art Pieces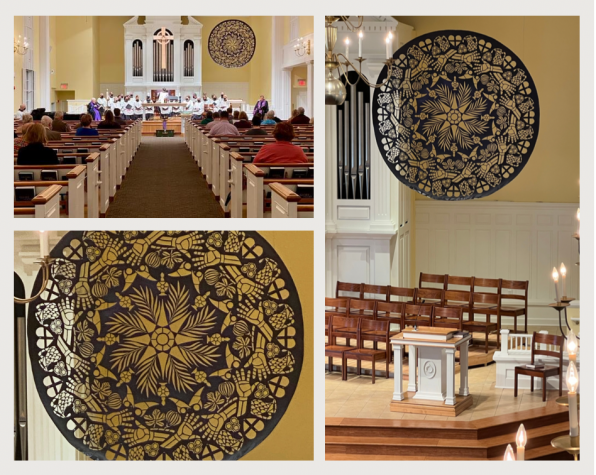 Lent 2022 Paper Cut
Size – 8' diameter circle
Material – Black photo backdrop paper
Method – Paper Cut banner (also called Paper lace)
Process – In recent years, an ad hoc group has included worship staff, worship team, worship artists, and others interested in spoken and visual elements (dance, drama, etc.) that gather before the significant seasons of Advent and Lent. This group explores themes, images, and ideas that enhance worship during the season. The pastoral staff often has an initial thematic concept, and the entire group looks at those plans along with scripture and does brainstorming.
In early February 2022, a group met to discuss Lent 2022. Working from a theme of shadows and light, we talked of papercuts as one possible element to show the light and dark. We also discussed shadows extensively and whether we could successfully project shadows onto one of the back walls of the chancel. (This was not achieved for this season.) A giant circle was suggested for the paper cut, possibly having a mandala-type feel. (From Wikipedia: A mandala is a geometric configuration of symbols. In various spiritual traditions, mandalas may be employed for focusing the attention of practitioners and adepts, as a spiritual guidance tool, for establishing a sacred space, and as an aid to meditation.) Mandala is a Sanskrit means disk. The images are often circles.
Additionally, the idea of having a "treasure" chest (taken from the Matt 6 scripture on Ash Wednesday) with an element that underscored one of the images from the weekly scripture was suggested and having those items displayed on the base of the communion table. Rebecca Ryan agreed to work on that visual aspect. Rebecca put together a plan for things to be removed weekly from the chest.
Lisa Longo began to work on the design for the large paper cut. Lisa used the same elements that Rebekah was highlighting and found concept images that would be sized and reworked for the papercut design. Lisa first drew a quarter-size draft (2' diameter) circle and placed printed images in a mandala fashion, beginning on the outside and moving to the center where the most important or focal image would be.
Ash Wednesday - Old Testament: heart, Ash; New Testament: heart, treasure ("treasure chest" is behind bowl containing ash/burned wood and ceramic heart) Paper Cut element – Heart with a cross inside that looks like the ash sign placed on the foreheads
Lent 1 - Old Testament: milk/honey, first fruits, New Testament: temptation of food (bowl of fresh food, canned goods, honey pot, milk pitcher) Paper Cut element – Pitcher of milk and honeycomb
Lent 2 - Old Testament: promise of community (gold confetti and glow in the dark stars on fabric field) Paper Cut element – Hands in a ring to signify community (The confetti and stars on the fabric would be hard to replicate in an image, and we liked the circle of hands for the community.)
Lent 3 - New Testament: fig tree (may also incorporate map underneath potted fig to tie in "seeking My ways" - Old Testament) Paper Cut element – Fig and leaf
Lent 4 - New Testament: prodigal son (may also incorporate parched grain around sculpture - Old Testament) Paper Cut element – stylized Father and son with hands crossed
Lent 5 - New Testament: anointing perfume surrounded by Easter's obi embroidered wrapping Paper Cut element – a bottle of anointing perfume
Palm Sunday - New Testament: palms (may also include percussion instruments and/or "cloak" fabric) Paper Cut element – Palm leaf
Good Friday - New Testament: closed tomb (aka locked treasure chest covered in shroud) Paper Cut – no image included – we will take it down for Good Friday and leave the sanctuary bare.
Easter - New Testament: open tomb (aka slightly open chest lid with obi embroidered wrapping and internal lighting spilling out) Paper Cut element – Burst of light at the center to represent Easter
Lisa and Mary met to review the concept, and Mary suggested that a full-size model of ¼ of the final circle would be helpful. Lisa suggested making stencils of the images. Lisa got to work sizing the images, placing them on the model and making stencils so the image would be a negative space cutout. Lisa made nine large stencils. The next step was drawing the stencils on the banner paper.
Mary took the lead and measured and put circular grid lines on the paper that matched what Lisa had on the model. The paper was wide enough to do one-half of the design. Since the design on the second half is the same, we were able to put two sheets of paper together and only stencil and cut ½ of the design. After Lisa and Mary stenciled the design on the paper, a team of four cut the design with box cutters. The cutting took approximately 4.5 hours with some additional cutting done along the seam when the two pieces were put together. The two pieces were glued and taped together for the final design. Mary and Mike Boris engineered a semicircle frame to support the top half of the banner to be a circle suspended above the chancel. The banner was given a dark purple spray paint coat to cut the stark black of the paper.
All in all, there are around 60 person-hours in the project.
Participants –
Lisa Longo
Mary Boris
Rebekah Ryan – cutting
Jill de las Alas – cutting
Mike Boris – frame and installation