Thank You from School on Wheels
(Read the letter here - October 2021)

Below: October 2021 - Mission Team member, Nancy Flamme, delivers a check to Mike Chapuran, director of Family Promise.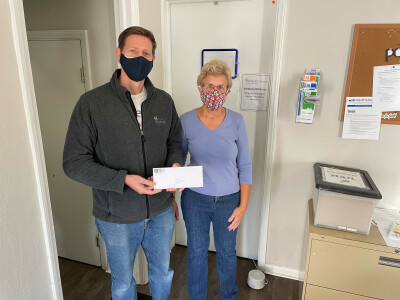 Northminster supports the Umoja Partnership
"Umoja" means unity in Kiswahili and we build our programs upon a
foundation of people who have come together from different faith communities and different cultures to respond to the urgent needs of some of the most vulnerable children in the world. The Umoja Project has developed a compassionate and comprehensive network of care to respond to the needs of orphaned an vulnerable children in Chulaimbo, Kenya, ensuring that they stay in school and perform to the best of their ability. Umoja provides uniforms, blankets, safe homes, food, school tuition, lamps to study, menstrual products, and empowerment programs.
In the Umoja Partnership project area, socioeconomic and demographic factors create needs for children different than what we experience in most areas of the United States.
· At least 20% of the school-aged children have lost one or both parents to HIV/AIDS and other diseases. When the Umoja Project started, it was reported that up to 50% of the student population were orphans.
· Most of the families we serve are involved in subsistence farming, which can be severely impacted by weather and environmental conditions such as drought, flooding, locusts and other infestations.
· The average income is $1.50 USD a day, earned by doing "casual jobs" that are not continuous employment: digging a garden, helping harvest, breaking rocks for gravel, digging sand. Families often struggle to obtain basic necessities.
· Access to education up to secondary school (what we call high school in the US) is just now becoming a goal of the Kenyan government; however, many children are unable to continue their education past primary school because they must help earn so that the family members can eat.
· Access to healthcare is rising in importance in Kenya; however, our students and their families have limited ability to access proper healthcare.

2021 Mission Team Projects

To learn more about these opportunities or to get involved with Northminster Mission projects, contact Mission Team Chair Andy Longo.
2020 Mission Projects and Activities of Note:
The in person Back to School event supported by our congregation, St. Luke's United Methodist Church and Second Presbyterian Church was cancelled last July because of the pandemic. Our funds were donated in support of purchasing school supplies for those in need in the Washington Township Schools. We plan to continue our support this year and are hoping for an in-person opportunity.

Even Covid 2020 did not stop Northminster from continuing our Day of Caring projects on October 11th. We had a condensed version from past years but still brought joy to many members and partners. We partnered with Dayspring Center where we planted mums, stained benches, cleaned up their playground area, and completed various yard projects. They look forward to us helping every year and can't wait to see us again in 2021! With Covid this year, and many people limited to get out and about, or attend social gatherings, we added "Drive-By Visits" to Northminster members who are shut-ins, elderly, or just needed to see people. We divided into carpools around and visited over 20 people at their homes. Cars full of members drove by, stopped, and chatted with members outside, with masks and social distancing, and each member received a care package full of various goodies. One member said it was like "Christmas in October", and just made her day visiting with everyone. We wrapped up the day with all the cars meeting together and doing a drive-by to Pastor Ruth's house to visit. She was very excited for the visit from everyone. Another small group went to the Hardesty home and did some yard work. We look forward to next year's Day of Caring being bigger and better with many more projects to continue supporting our members and partners.

The Team continued to support the Lutumika's family through the Exodus Refugee Program.
As reported in the 2019 Mission Team Report, the first disbursement (2020) from the Mission Endowment created by the Abundant Joy capital campaign was provided to the Umoja Partnership. A total of $17,000 was disbursed
Our second recipient for 2021 is School on Wheels. Their vision is to equip school-aged children impacted by homelessness with the educational tools necessary to achieve success in life and break the cycle of homelessness.
From the School on Wheels website:
Homelessness is difficult to comprehend for those who have not experienced it, but it is a problem that has widespread impact on communities and long-term impact for the people who experience it. Take a few minutes to meet Sam by watching the short video below and learn how homelessness impacted his education and how School on Wheels' academic intervention transformed his life.
School on Wheels Impact (video)


For 2021, Northminster Presbyterian Mission will financially support the following local Indianapolis service agencies:
Dayspring Center
Gleaners Food Bank
Raphael Health Center
Habitat for Humanity
Wheeler Mission
Westminster Neighborhood Ministries
Crain House
Bread for the World
Julian Center
Family Promise
Washington Township Schools
In addition, the Church supports PCUSA, Synod of Lincoln Trails and Whitewater Valley Presbytery mission work each year.


Northminster Presbyterian Church becomes a Matthew 25 Church

In December 2020, Mission Team enthusiastically and unanimously approved becoming a Matthew 25 Church with a focus on eradicating systemic poverty. The Session approved this action at its December 15th meeting.
The following information is from the PCUSA Presbyterian Mission webpage –
What is a Matthew 25 church?
Matthew 25:31–46 calls all of us to actively engage in the world around us, so our faith comes alive, and we wake up to new possibilities. Convicted by this passage, both the 222nd and 223rd General Assemblies (2016 and 2018) exhorted the PC(USA) to act boldly and compassionately to serve people who are hungry, oppressed, imprisoned or poor.
Where to begin?
There are already PC(USA) congregations that identify themselves as Matthew 25 churches. We aim to help multiply this loving commitment to radical and fearless discipleship by partnering congregations to help them embrace one or more of these three focuses:
Building congregational vitality by challenging people and congregations to deepen their faith and get actively and joyfully engaged with their community and the world.
Dismantling structural racism by advocating and acting to break down the systems, practices and thinking that underlie discrimination, bias, prejudice, and oppression of people of color.
Eradicating systemic poverty by working to change laws, policies, plans and structures in our society that perpetuate economic exploitation of people who are poor. How can the national church help? NOTE: The NPC Mission Team and Session adopted this focus.
Current Mission Team Members
Carrie Zimmerman, Nancy Flamme, Connie Coleman, John
Reed, Brenda Reed, Debbie Grush, Bo Walker, Kaitlin Ernst, Beth Cornelius, Victor Perkins, Tom Stayton, Pastor Ruth Moore, and Chairperson Andy Longo