Biography | Marko
Petričić
Marko Petričić holds D.M.A. and M.M. degrees from Indiana University where he studied with Dr. Christopher Young, and a Bachelor of Music degree, summa cum laude, from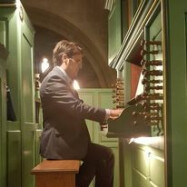 Ohio University where his teacher was Dr. H. Joseph Butler. He is an adjunct professor of organ, sacred music, and music theory at the University of Indianapolis where he has created the organ and church music program. He also taught applied organ lessons, organ literature, and music theory at Indiana University.
As an active church musician, he is Music Associate/Organist at Northminster Presbyterian Church and was previously Assistant Organist and Choirmaster at Christ Church Cathedral and Choir Director/Organist at Bethlehem Lutheran Church in Indianapolis. He has presented recitals and master classes at Shanghai Normal University in China, the University of Toronto, Canada, and the University of Belgrade, Serbia. As an accomplished organ and bayan-accordion performer, Marko
Petričić has won top prizes at International and National competitions in Italy, Germany, Yugoslavia, and the United States. He was a member of the jury for the Fort Wayne National Organ Competition twice, and his CD recordings French Accent (organ), and The Years of Pilgrimage (bayan), have received excellent reviews.
As an accomplished keyboard performer, he has performed with the Indianapolis Symphony Orchestra on numerous occasions featuring a wide range of repertoire.
His newest CD recording of J. S. Bach's Clavierübung III on organ and bayan featuring the Northminster's C. B. Fisk Op. 154 pipe organ was just released on the MSR Classics label.